Quite some time ago in a place they still call France at the rather ungodly hour of 01:30 am, Sunday the 24th March 1963, Craig Payne entered the world at a hospital in Fontainebleau France. The son of Alan and Mary, who were in France courtesy of the Royal Air-Force, where Alan was serving with the five nations air-force having completed several tours of duty in middle eastern trouble spots.
The family returned to the UK in about 1965 and continued to move around a lot with the air-force until Alan left in 1969.
In 1972 the family moved to Sandwich Kent, where they took over Craig's grandfathers fish and chip shop, finally settled in one place for the next two years with the luxury of living in a genuine Tudor house approximately 438 years-old and complete with the friendly ghost of a Nun; the house was built on an old priory about the time of the reformations in approximately 1534.
In 1974 the family moved to New Zealand, settling in the town of Kaiapoi, which offered a uniquely different lifestyle of open spaces, nearby beach, tennis club and pool...
Craig's interest in music had always been simmering in the background; but in 1975 a new teacher to Kaiapoi North School, Robin Ferris, offered the chance to learn guitar during the lunch breaks, an opportunity not to be missed and the catalyst to a long career which would eventually include gigs, TV appearances, bigger shows in the '90s, as well as a successful recording career in the 2000's.
Another music teacher, Clarrie Light, taught Craig guitar, bass guitar, drums and keyboards over approximately 8 years giving Craig a much broader understanding of music as well as encouraging the development of Craig's original music; often lending Craig instruments to experiment on at home...
Although it was the movie, 'Ferry Cross The Mersey' featuring Gerry and The Pacemakers, that stirred Craig's interest in becoming a guitarist it was Hank B Marvin of The Shadows that became a major influence on Craig's playing. "There was something about that 'cool twang' that ignited my initial interest in that sound and things developed from there" Craig recalls...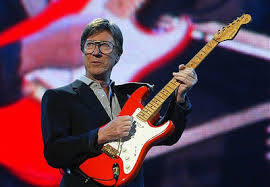 Hank B Marvin
It wasn't long before the first 'electric' guitar came into Craig's possession and although the first $50 Taiwanese copy of a Fender Stratocaster was pretty crap it was soon replaced with an EKO guitar, made in Italy and sporting the tone controls along the top of the guitars body in the form of push buttons... all this with a sparkly red finish... that guitar has long since disappeared but given the modest price of $80 it was pretty good...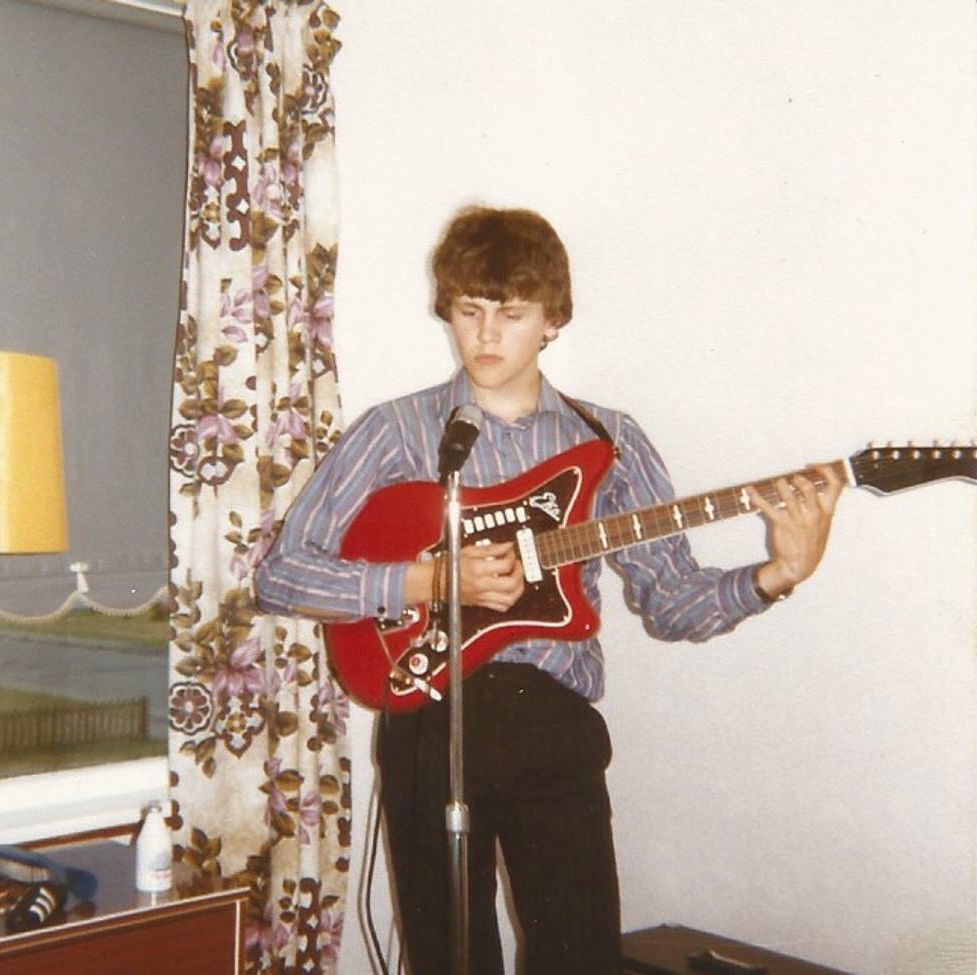 Craig aged 15 with the EKO and a $20 microphone all running through a $100 Alron amp... good times...
The main influences musically for Craig have always been Gerry Marsden, Hank B Marvin, The Beatles, Paul McCartney, John Lennon, Eric Clapton, Mark Knopfler, Jeff Lynne, George Benson, Jeff Beck, Joe Walsh (particularly slide guitar work), Brian Setzer and more recently Brian Ray; best known for his work as rhythm, lead and bass guitarist with Paul McCartney, although he has worked with a diverse range of artists in addition to his own solo career. The list is too huge to mention all of the influences but they all played a part in forming what has since become a unique blend of eclectic sounds and styles that feature in Craig's original music today...
Things moved on at a consistent pace and a big supporter instrumental in Craig being able to learn drums, bass and keyboards in addition to guitar was Charlie Jemmett who ran CJ's Music Store in Christchurch... sweet deals were aplenty and Craig remembers buying a drum kit only to swap it for a guitar further down the track with some very generous trade-in deals thrown in to allow things to happen...
The Christchurch music scene of the '80s was very healthy and offered at least one gig a week at the very reasonable rate of $80 to $100 a night until it all came to an end in the late '90s when 'sports bars' with TVs in the same room as the band appeared; some even had betting shops... try doing a gig when half the crowd wanted to watch a horse race...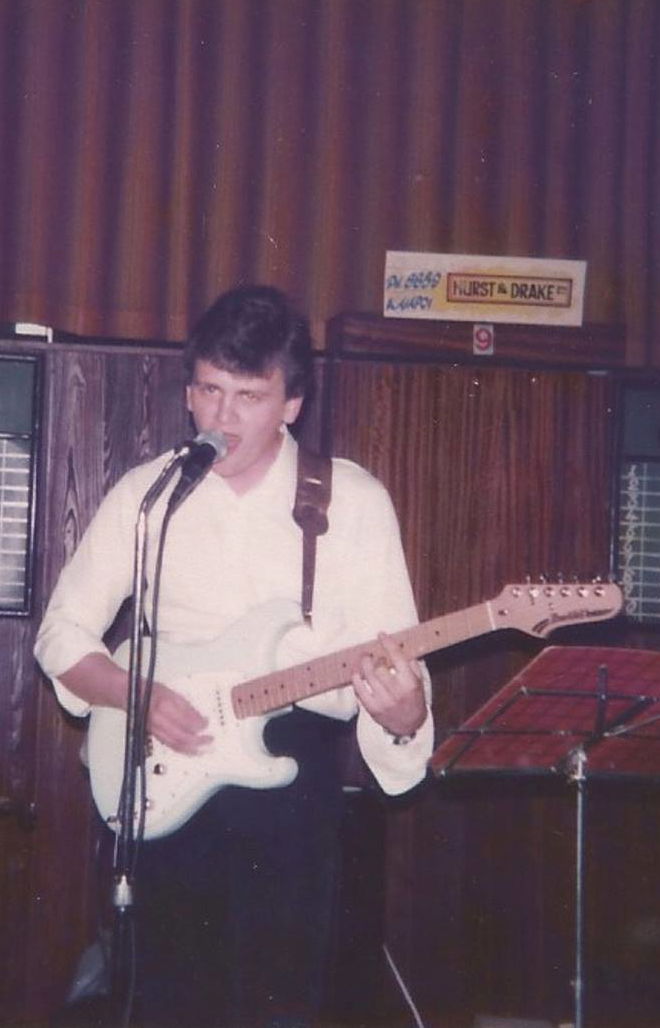 Craig aged 20 'live' in 1983 with an Ibanez Roadstar
During the mid to late '90s tribute shows became popular, with people dressing up as ABBA or whoever, all using the new technology of midi tracks which sounded pretty bad... guitars sounded like rubber bands and it was all very fake which inspired Craig to put a Shadows styled show together eventually appearing as 'Exodus Out of The Shadows'...
"The Shadows show would have been great if supposed 'friends' hadn't destroyed it with their own agendas. I think I learned much about human nature which was disappointing at the time but has made me much wiser now" Craig said recently...
The first show sold out with about 800 people in attendance, a few more shows followed, all successful which in turn gave Craig the opportunity to introduce some original guitar instrumentals to the audience as well as release a single available on cassette in local record shops. Since then Craig has never played in a covers band again...
The early 2000's offered huge opportunities for Craig and many other musicians around the world; as digital music appeared on the scene as well as good quality affordable recording software which eased the financial burden of making an album.
From 2007 - 2009 Craig recorded a few albums featuring mainly covers with a couple of original tracks thrown in the mix for good measure.
Around this time Craig also signed a deal with Sir Paul McCartney's publishing company MPL for pre-licensed original tracks. "it seemed like a good opportunity at the time, but the tracks just weren't good enough; predominantly twangy guitar instrumentals and not really fit for purpose" Craig said in a 2020 interview.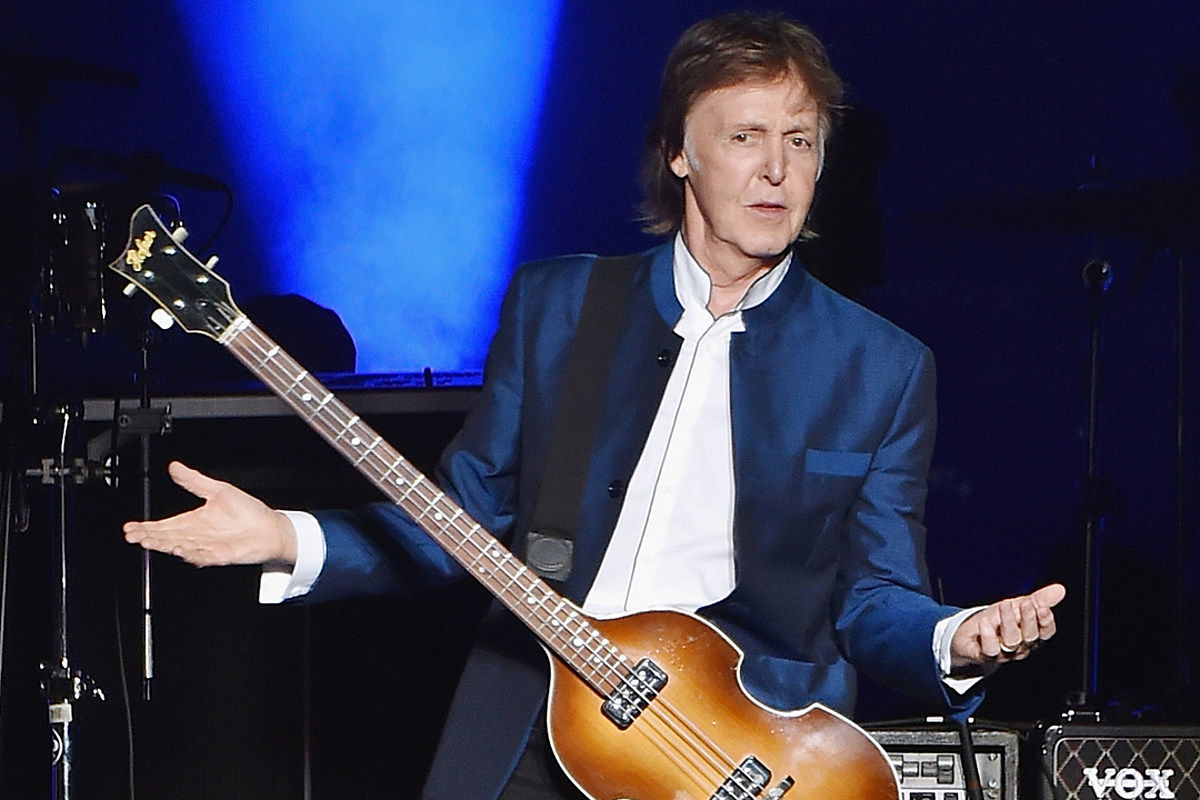 Sir Paul... still a big favourite and influence of Craig's...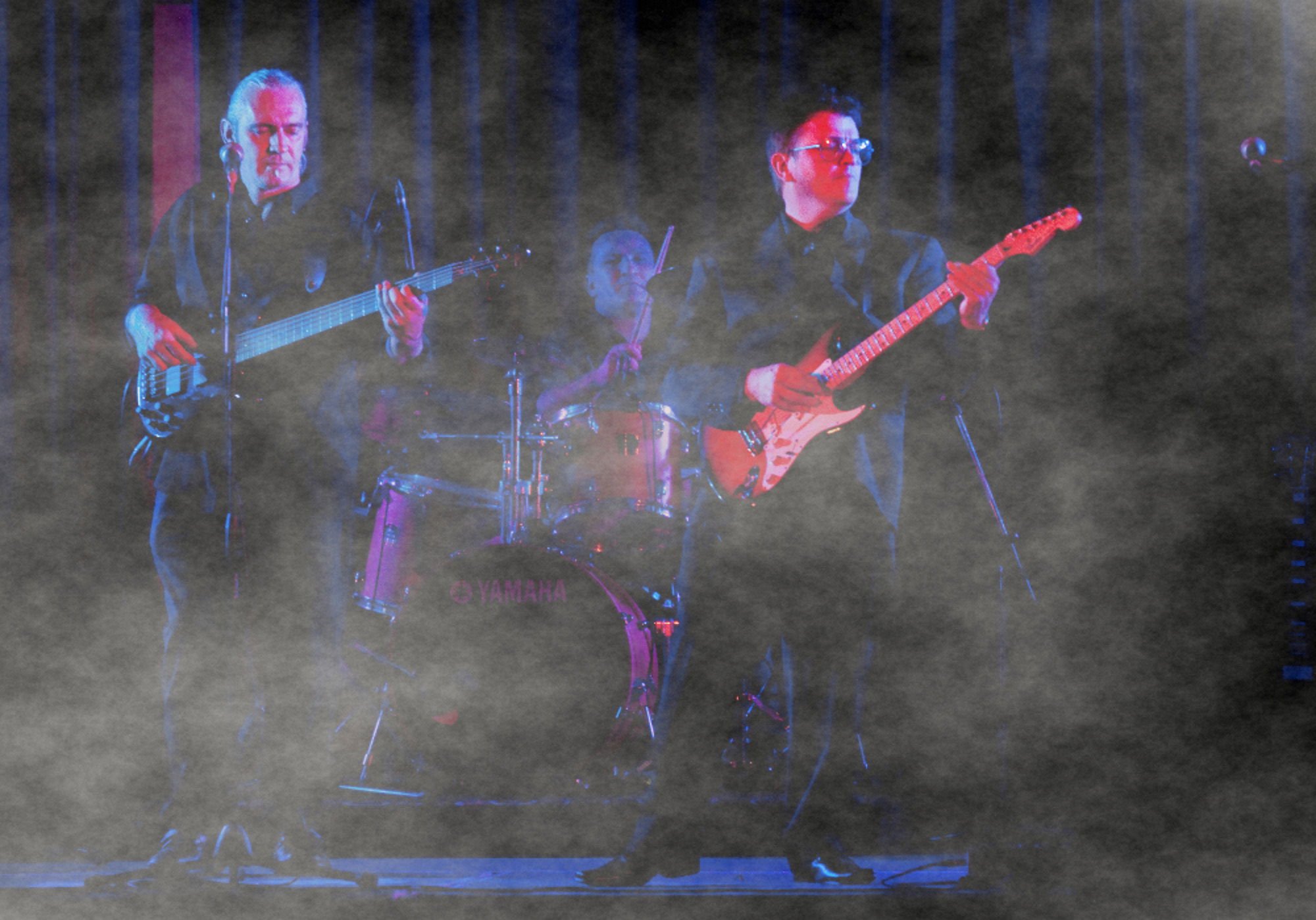 Craig 'Live' in October 2009
The last show Craig played was in October 2009 and included some cover versions of instrumental hits, which had been featured on early albums such as 'Craig Plays The Shadows', 'Craig Plays McCartney' as well as a large selection of original material.
Original CD's also sold very well at that show; but the time for change was fast approaching...
Given the change in music markets and publishing, as well as Craig's agent in New Zealand coming up with a new fee every month which made it even less profitable, a change in direction was inevitable and in 2013 Craig fired the agent and deleted everything he had released, a luxury only afforded by the digital music era, and soon came up with a new 'vocal' album under the name 'Dizzy Height' which was one of Craig;s bands in the '90s...
Becoming 'Dizzy Height' was not a good move at all and over a period of a few years Craig again had to make a choice which would involve deleting everything and starting again...
Move forward to 2018 and Craig, working under his own name, started to record new original vocal tracks and finally started to rebuild his career with albums that this time around would get really good independent reviews...
2019 came to a close with the album 'Making History' the only significant release for that year; but it got solid reviews... The year was also marred with Craig's father's health declining rapidly which presented its own challenges and Craig was now solely responsible for making decisions regarding palliative care and looking after his mothers affairs...
On January 2nd 2020 Craig's father, Alan, passed away and sorting out his will, selling the family home and buying his mother a new house closer to family in Christchurch pretty much took up the following nine months and destroyed most of Craig's creative energies... "I had to do it all on my own; I have an estranged brother who over the years treated my parents like crap as well as me and despite an attempt by me to offer an olive branch it became easier to erase him from my life and get on with helping my mother through this difficult time"... Craig said when recounting the year 2020 so far...
The negative cycle had to be broken and what better way to do so than get back to his original roots... inspiration was found when restoring the Cimar acoustic guitar Craig got at age 15 and wrote a lot of really good music on...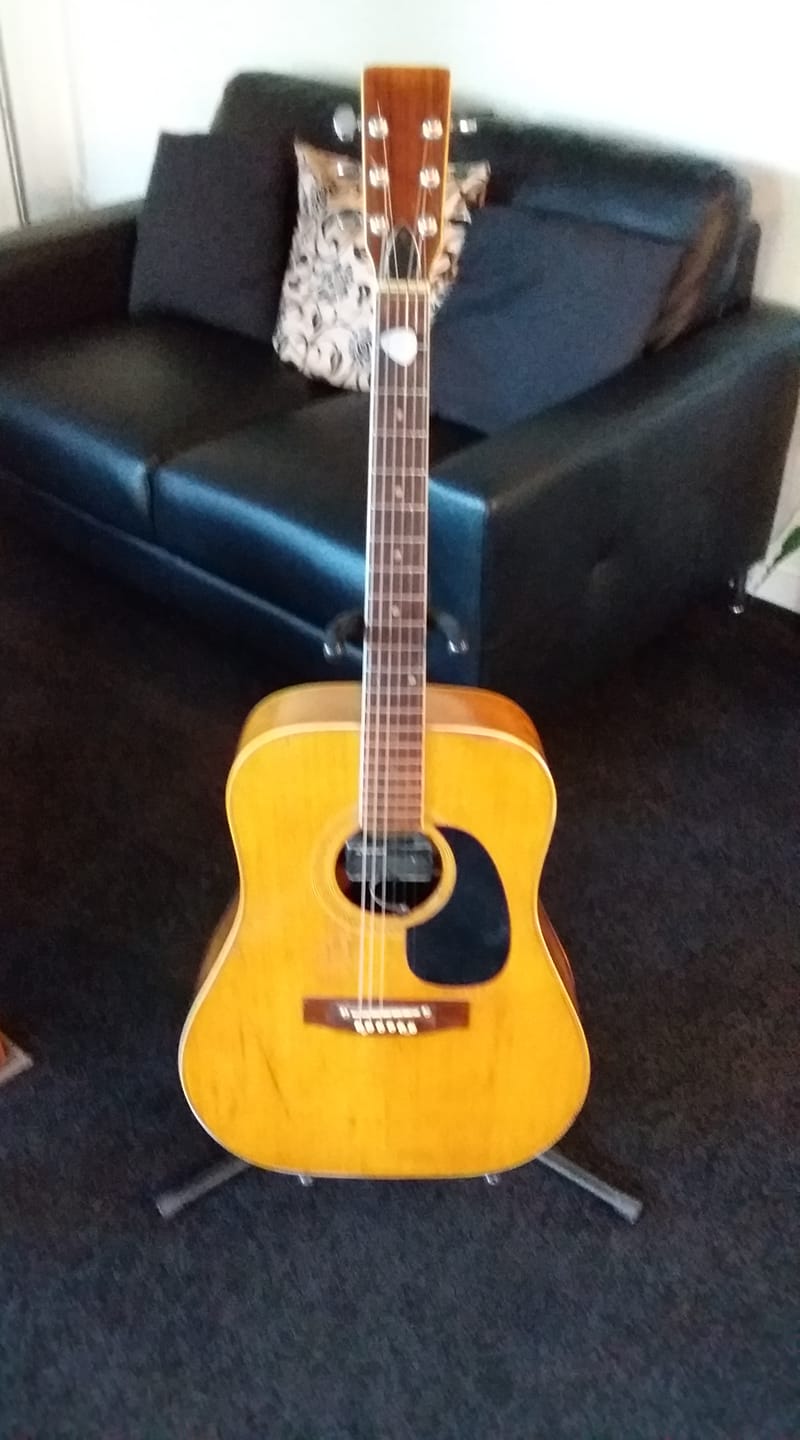 Restored back into working order the Cimar acoustic
The 'old team' back together has got the ball rolling for a new album in 2021 with no shortage of inspiration and new musical territories to explore...
"Covid-19 has changed the world forever, as well as the music world, so it's not just about a 'new album'... it's about an entirely new way of working while appreciating the important things in life"... Craig mused as 2020 approaches its end with a new and hopefully better year on the horizon...
Through adversity comes challenge and opportunity and Craig has met all of the aforementioned head on with a new determination and tenacity while expanding the creative process which will hopefully, one day soon, produce an album that will redefine who Craig is and where he's going...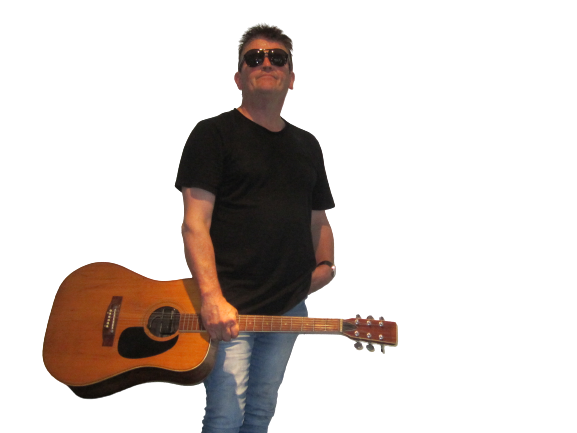 Relaxed, focused and creative again...
To follow Craig's musical journey visit the "News" page for the latest news and of course follow on "Facebook" to get the latest heads up first... Craig looks forward to seeing you there...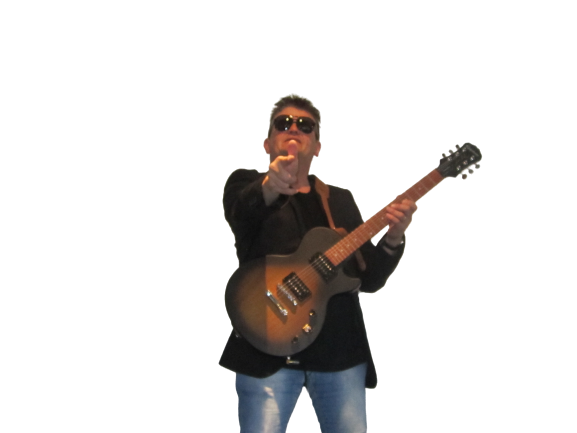 It's been a while but Craig is back with the best material yet and sporting the new Epiphone Les Paul Special / Vintage Edition guitar which has really enhanced Craig's sound
2021 saw the release of Craig's album 'A Long Time Coming' which left the previous albums standing and featured 10 really strong new original and very commercial songs.
2022 has also seen the follow up album to 'A Long Time Coming', 'Rockin' On A Level Surface', which has done extremely well and was preceded by the singles 'A Happening Thing' and 'Live In A Moment'.
From early 2023 Craig Payne Music has again become based in London UK as it was in the early 2000's; all of the labels distributors, stakeholders and publishers are based either in Europe or the USA so it makes sense to centralize the operation although Craig still resides in New Zealand at this point in time.
As Craig said recently: "It's nice to live at a distance from the music business and as most music labels are online operations these days it's very practical and healthy to have a degree or two of separation"...
Stay tuned and keep following as Craig's amazing musical journey continues...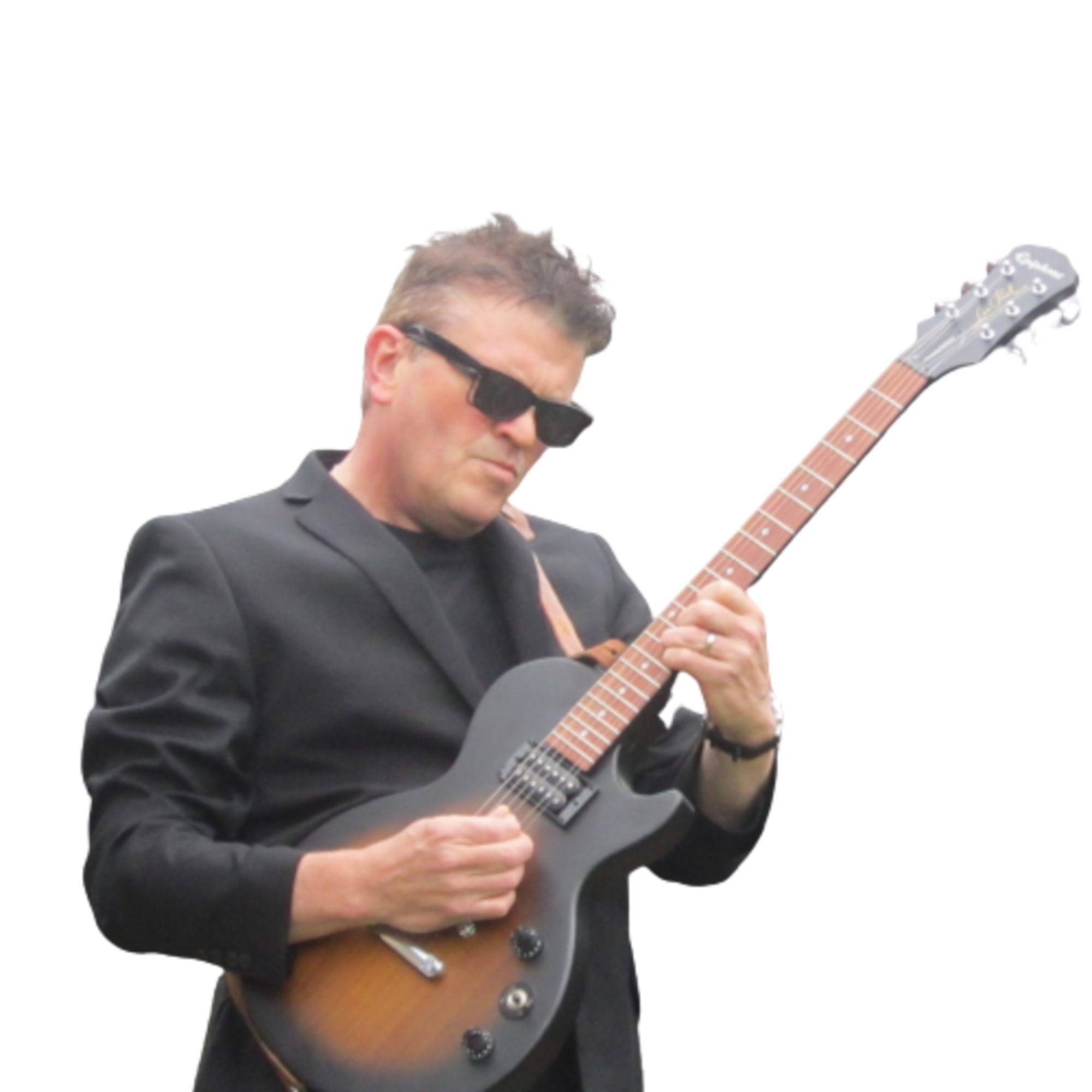 Craig Payne Music 2023 ©